RESEARCH EXPERIENCES FOR UNDERGRADUATES (REU)
Department of Atmospheric Sciences
Research Themes
REALM leverages our Department's strength in alpine atmospheric science and education, provides students with clear links between science and societally-relevant research, and provides opportunities for students to experience mountain environments that they may not have previously had. Dr. Whiteman, who will be the keynote speaker at the opening REALM retreat, is a recipient of the 2012 Research and Leadership award from the AMS Committee on Mountain Meteorology. Dr. Jim Steenburgh, Mentor, was similarly recognized by that AMS committee this year. His popular book, "Secrets of the Greatest Snow on Earth" explains complex science in layman's terms as it explores mountain weather, avalanches and snow safety, historical accounts of weather events and snow conditions, and the basics of climate and weather forecasting.
Research Themes:
Here are concise themes focused on work underway by the REALM research mentors.
Measurement, Analysis, and Prediction of Orographic Precipitation
Mountainous climate regimes are seeing a general shift towards precipitation types found in warmer climates such as wet snow and rain. Adequate long-term measurement capabilities do not currently exist to observe these transitions. Several faculty members within the Department of Atmospheric Sciences are working to improve measurement capabilities of alpine precipitation. For example, Dr. Garrett has developed new technology with the invention and commercialization of the Muti-Angle Snowflake Camera (Garrett et al. 2012) that will be utilized with this REU to study Thundersnow. Dr. Cooper has created new techniques to combine satellite and ground-based remote sensing to improve precipitation estimates in mountain regions (Cooper et al. 2017), and will incorporate undergraduates in analyzing remote sensing data. In November 2017, a Center for Severe Weather Research Doppler on Wheels (DOW) radar visited the University of Utah for the Outreach and Radar Education in Orography (OREO) field campaign led by Dr. Steenburgh. Students at the University of Utah used the DOW to chase orographic storms in Northern Utah. Data from these campaigns will form the basis for an REU project. Dr. Zipser, Fellow of the AMS and author of over 130 peer reviewed publications, will assist REU students with using remote sensing data to observe thunderstorm initiation over complex terrain (e.g., Liu and Zipser, 2015). Predictive models of orographic precipitation have been developed on a variety of spatial and temporal scales by faculty within the Department. For example, Dr. Strong studies climate by developing and using computer models (e.g. Scalzitti et al., 2016), and is especially interested in linkages between the atmosphere and cryosphere, including mountain snowpack. He will lead an REU project focused on investigating the effects of climate change on mountain snowpack.
Fire Weather Applications
Dr. Horel's research is supported by federal and state fire agencies to improve the information available to wildfire professionals to make decisions when hazardous weather is expected in the vicinity of major wildfires (Horel et al. 2014; Lammers and Horel 2014; Blaylock et al. 2018). Dr. Krueger's research group has been involved in wildfire modeling and field experiments for many years (e.g., Sun et al. 2009, Kochanski et al. 2013a,b, Clements et al. 2018). Dr. Krueger is currently PI of a project supported by NSF's PREEVENTS (Prediction of and Resilience against Extreme Events) program that is developing the Multistage Wildfire Research and Prediction System (MWRPS), a powerful modeling approach that will provide real-time prediction at the fire-line scale for research and operational forecasting needs, while incorporating the effects of complex terrain. These projects involve analyzing and visualizing "big data" obtained from numerical weather prediction models and observations in the vicinity of major wildfires. The objective of fire-related studies is to develop improved observational and computer-based tools that operational wildfire personnel can use to make informed decisions about conditions that could lead to explosive fire development. REALM students will be involved in monitoring online information related to major wildfires in the western United States and Alaska, and the ability of modeling systems to identify periods when fires may undergo explosive growth. They will also have first-hand experience with a tilting incendiary wind tunnel (using wood shavings for the fuel bed), which clearly illustrates the impacts of slope and wind speed on fire rate of spread.
Air Quality in Mountainous Regions
Air quality in mountainous regions reflects the combined influences of nearby urban influences, regional-scale emissions, and long-range transport. For instance, atmospheric composition measurements at mountain sites reveal the impacts of aridity on aerosol loading from wildland fires (Hallar et al., 2015; 2017). Mountaintop observations of CO2 reveal the carbon cycle due to montane vegetation, as well as occasional impacts of urban emissions. Dr. Lin's research has included modeling of CO2 in the mountains (Lin et al., 2017), as well as observations of CO2 and air quality-relevant pollutants from cities up to mountains (Lin et al., 2018). Dr. Mitchell has been using mobile measurements to investigate the spatial patterns of atmospheric composition that interacts with the surrounding mountains and urbanized valleys through strong thermally-driven circulation patterns (Mitchell et al., 2018). Dr. Mendoza's research focuses on combining highly resolved emissions (Mendoza et al., 2013) with exposure measurements to model and predict health outcomes at sub-city resolution, with a particular focus on vulnerable populations (Pirozzi et al., 2018). This multidisciplinary approach encourages the REU student to postulate enactable mitigation options and suggestions that can not only further scientific and health research, but can also be used as the framework for future legislative efforts. Dr. Kevin Perry's research has recently focused on dust plumes from the Great Salt Lake, which reduce horizontal visibility and increase particulate matter concentrations to unhealthy levels. He has identified portions of the lakebed that are active dust sources by bicycling (2250 miles) across the lakebed, documenting the surface crust characteristics, and collecting 5000 soil samples for subsequent physical, chemical, and optical characterization. REALM students will be involved in the analysis and interpretation of these soil samples. Dr. Perry was recognized in 2018 by the University of Utah with an award for mentoring students in their career development and exploration.
REALM RESEARCH PRojects
STRUCTURE AND PREDICTION OF OROGRAPHIC, LAKE-EFFECT, AND SEA-EFFECT STORMS
W. James Steenburgh, Professor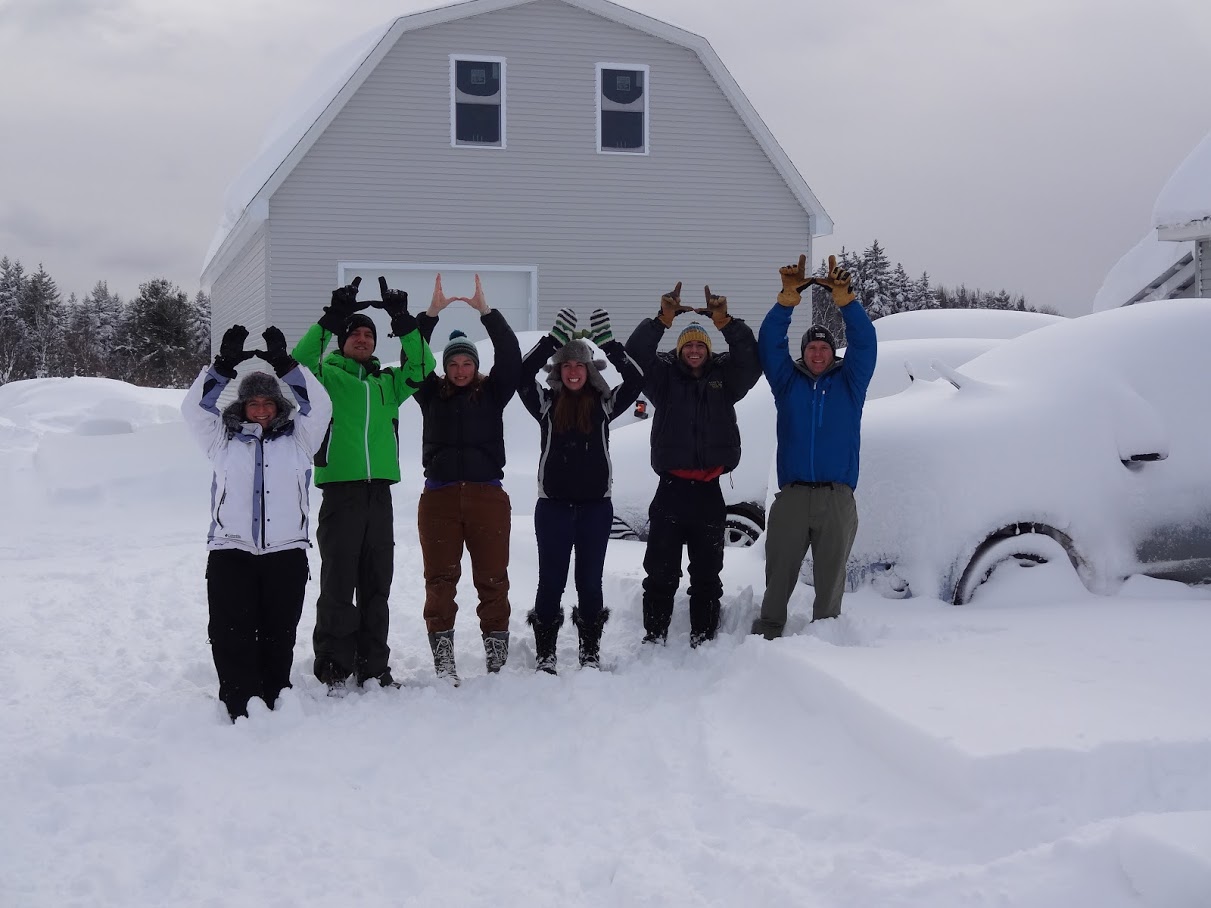 Background
The Steenburgh group seeks to advance the understanding and prediction of winter storms in complex terrain, focusing on the contiguous western United States and lake- and sea-effect regions around the world. Snowfall in these regions is often intense, spatially variable, and difficult to predict. We conduct field programs, analyze conventional meteorological data, validate operational models, develop forecasting techniques, and perform mesoscale- and cloud-model simulations to unlock the secrets of these storms and improve their prediction.
Student Role
We are currently producing high-resolution snowfall forecast for the western United States using techniques to downscale precipitation forecasts from ensemble modeling systems and estimate snow-to-liquid ratio. We seek a student to examine the accuracy of these snowfall forecasts in the central Wasatch Mountains southeast of Salt Lake City where winter storms typically produce large spatial snowfall contrasts. This will involve comparing snowfall and liquid precipitation equivalent observations collected by avalanche professionals at several locations with downscaled forecasts from operational modeling systems. This could be done for one or more winter seasons, looking at cumulative statistics, or by focusing on case studies of well and poorly forecast events.
Student Learning Outcomes
At the completion of this research experience the student will be able to:
Apply appropriate verification methods to identify the capabilities and limitations of precipitation forecasts
Use ensemble-derived probabilistic information and visualizations for precipitation and snowfall forecasting
Describe the limitations and uncertainties of snowfall observations and challenges of predicting winter storms in complex terrain
Summarize the economic benefits and societal impacts of winter storms in mountainous regions and communities
Articulate the relevance of their research for a professional audience
MEASUREMENT OF THUNDERSNOW IN MOUNTAINOUS TERRAIN
Timothy Garrett, Professor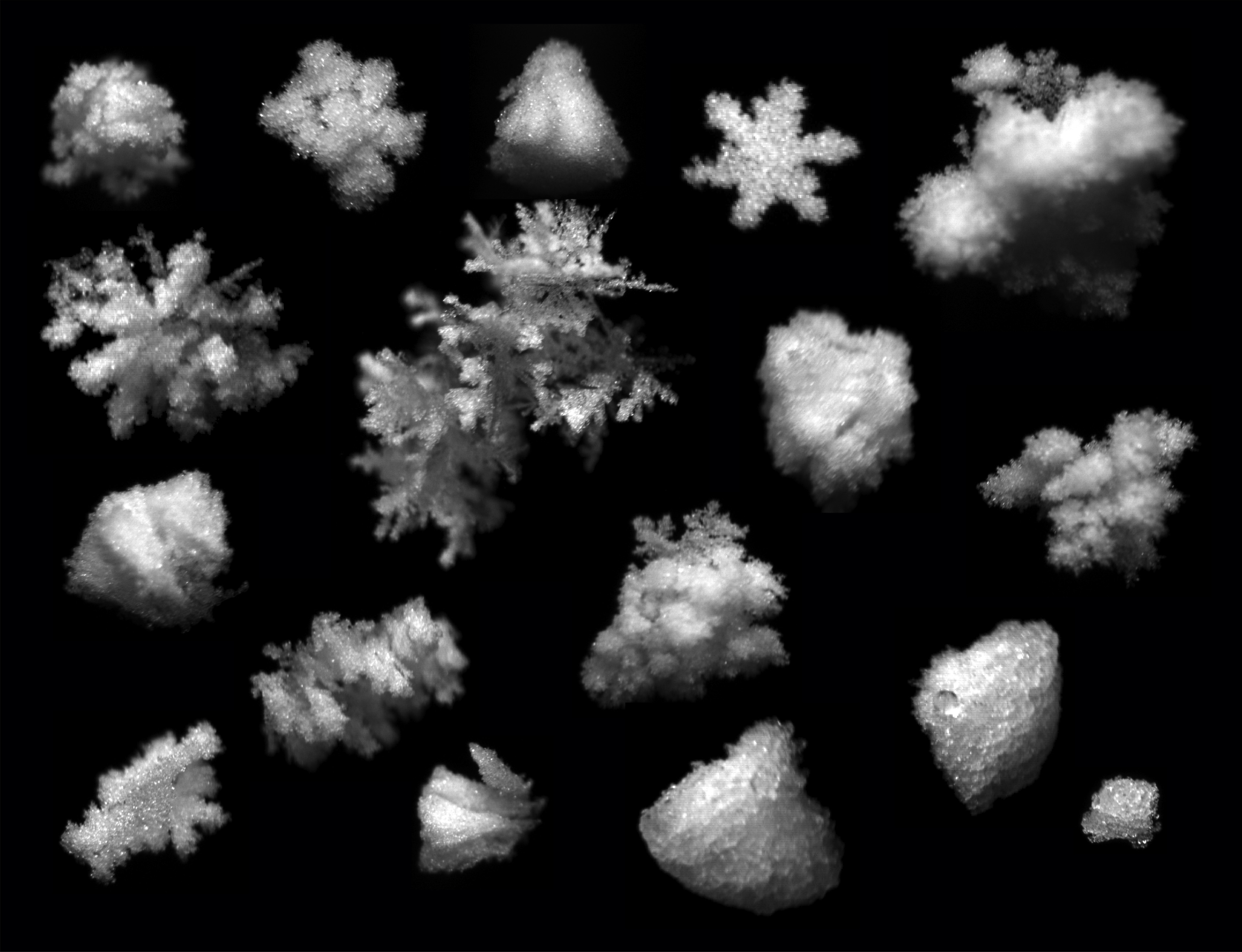 Background
The Garrett group is interested in the surveying the properties solid precipitation and linking them to meteorological conditions. Weather and climate models still rely on a very few measurements made by hand in the Washington Cascades in the 1970s. We hope to change this by using advanced automated techniques we've developed for photographing snow particles in free fall and measuring their mass and density and fallspeed.
Student Role
Summertime mountain precipitation is often in the form of large graupel and small hail that falls from convective clouds triggered by land heating and forced mountain uplift of winds. The student will help deploy instrumentation to the Wasatch Front range next to Salt Lake City. Student data analysis will focus on analyzing precipitation particle microphysical properties and relating them to mountain meteorology.
Student Learning Outcomes
Learn about the various types of precipitation and their range of microphysical properties
Become skilled at operating new instrumentation for measuring precipitation and data collection
Deploy instrumentation in a mountain environment as part of a scientific team
Analyze precipitation data using MATLAB
Compare precipitation properties to mountain meteorological conditions
Summarize scientific results in a written report
ANALYSIS OF DOPPLER WIND LIDAR DATA IN COMPLEX TERRAIN FOR AIR QUALITY APPLICATIONS
Sebastian Hoch, Research Assistant Professor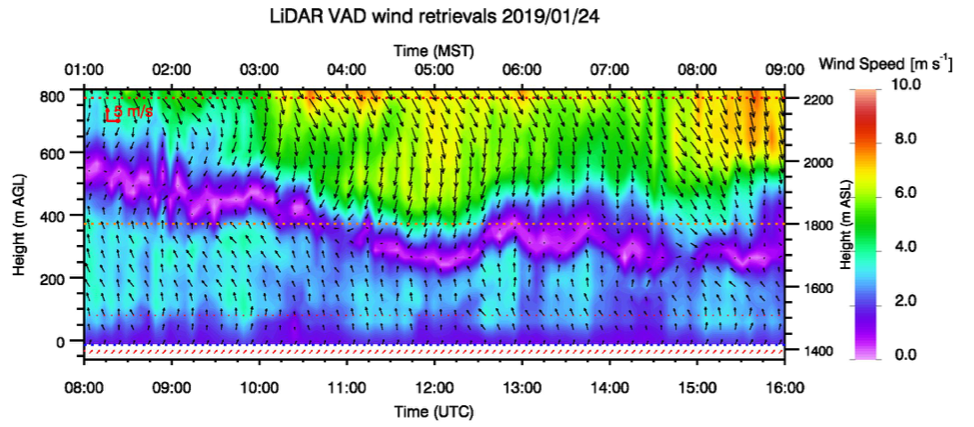 Background
The Salt Lake Valley and other densely populated topographic basins in northern Utah and throughout the world suffer from prolonged pollution episodes during wintertime that are associated with Persistent Cold Air Pools (PCAPs). PCAPs develop when high pressure systems and subsidence temperature inversions trap colder air and anthropogenic emissions in topographic basins. While atmospheric mixing and transport processes are generally suppressed under the statically stable atmospheric conditions of PCAPs, some thermally and synoptically driven processes still work to modulate particulate pollutant and pollutant precursor concentrations within and along the edges of the PCAPs. For the SLV, these processes include (1) canyon circulations through tributaries, (2) lake breeze circulations from the Great Salt Lake (GSL), (3) basin sidewall ventilation, (4) synoptically forced airmass exchanges with the atmosphere over the GSL, and (5) inter-basin exchanges.
Over the past winter seasons, Doppler wind LiDAR observations were conducted to target some of these different PCAP mixing or exchange processes.
Student Role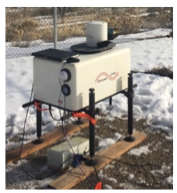 We are looking for a student to analyze the LiDAR dataset in combination with additional available chemical and meteorological datasets to evaluate the importance of these circulations in modulating spatial and temporal variations in pollution concentrations throughout the SLV. A comparison of these observed processes with output of the HRRR model or with a cold-air drainage model are additional research options. Further, a short LiDAR deployment targeting thermally-driven circulation systems in the SLV are planned for hands-on experience with the wind LiDAR.
Student Learning Outcomes
At the completion of this research experience the student will be able to:
Describe and discuss the meteorological and chemical processes involved in the life cycle of Utah's wintertime pollution episodes.
Post-process Doppler wind LiDAR data from different scanning strategies.
Combine LiDAR-retrieved wind fields with chemical datasets to evaluate and estimate pollution mass transport.
Deploy and operate a Doppler Wind LiDAR or model drainage flows with a cold-air pooling and drainage model.
Articulate the relevance of their research for a professional audience.
Transport of Ozone in the red butte canyon research natural area
John Lin, Professor and Ryan Bares, Sr. Laboratory Specialist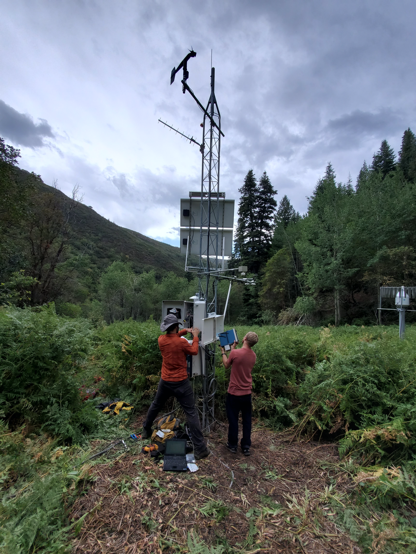 Background
Tropospheric Ozone (O3) is a critical atmospheric oxidant, causing direct harm to human health in the summer and involved the formation of wintertime particulate matter. Thus, O3 is a key pollutant in both the summer and winter months. Despite the importance of this pollutant, many questions remain regarding its formation, transport and roles in secondary chemical reactions. In an effort to better understand the role of canyons in the transport of O3 rich air into the valley, the Utah - Atmospheric Trace gas & Air Quality lab has installed O3 monitoring equipment throughout Red Butte Canyon, a tributary canyon located directly above the University of Utah. This is a yearlong data collection effort to help understand winter and summer air quality along the Wasatch Front.
Student Role
The student will assist in field and laboratory tasks. The role of the student includes the calibration of sensors in the laboratory, deployment of sensors to field sites within Red Butte Canyon, monitoring real time data to identify and resolve problems, and analysis of data post collection for reports and lab meetings.
Student Learning Outcomes
A great advantage of working in the Utah – Atmospheric Trace gas & Air Quality lab is that students are introduced to a wide array of air quality and greenhouse gas research.
Students will have the opportunity to learn hands on instrumentation and data collection techniques with cutting edge technology used in a wide array of measurement platforms.
Students will also learn about the atmospheric chemistry that drives the Salt Lake Valley's air quality problems, as well as gain insight into urban emissions and (potentially) atmospheric modeling techniques.
Students will have the opportunity to conduct data analysis on one of a kind datasets to help better understand our air quality problems and inform decision makers.
Since the student is required to attend weekly lab meeting and contribute analysis for reports as well as resolve issues during fieldwork, they will gain experience in communication skills, analysis of data, and problem solving.
These skill sets will directly contribute to a student's professional development in the fields of scientific or academic research.
MODELING AND OBSERVATIONS OF AIR QUALITY AND ASSOCIATED HEALTH IMPACTS
Daniel Mendoza, Assistant Professor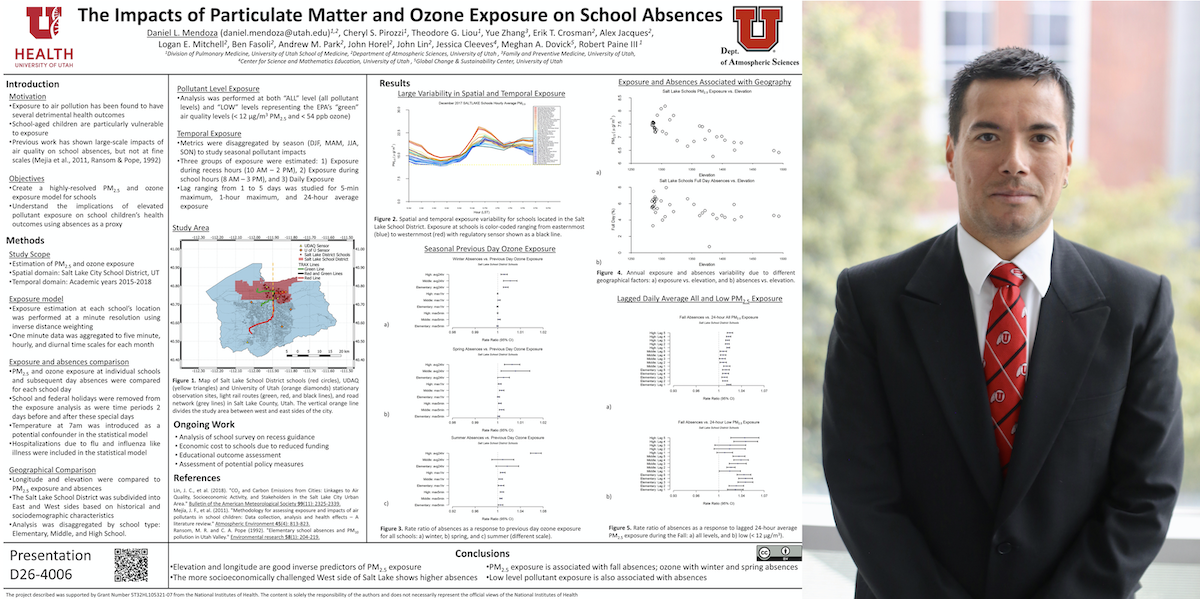 Background
Exposure to air pollution has been associated with multiple negative health outcomes such as pulmonary and cardiovascular events, particularly among vulnerable populations. Over 200,000 people live in Salt Lake City, capital city of Utah and county seat, with over 1.2 million residents in the Salt Lake City Metropolitan area. Salt Lake City is surrounded by mountains to the south, east and west, creating a topographical basin that traps pollution during wintertime stable layers or cold-air pools (also known as inversions) leading to high levels of pollutants, especially fine particulate matter (PM2.5). Interstate highways, an international airport and railroad traffic, industrial pollution sources, windblown dust and wildfires are among the complex sources that contribute these episodic pollution events that are most frequent and severe in the winter and summer. With a growing population and increasing wildfire and dust storm occurrences summertime air quality is becoming an increasing public health concern. Due to the lack of granular, reliable air quality measurements, all previous pollutant exposure and health-related studies have intrinsic resolution issues when examining scales smaller than a county or city. This reduces applicability, since a single sensor cannot portray intra-city variability, nor truly represent individual or neighborhood-scale exposure. This leads to significant mischaracterization of a population's vulnerability and potential health outcomes. Understanding that the burden of poor air quality is not shared equally among populations is a key motivator for understanding environmental exposure at neighborhood scales.
Student Role
The student will be encouraged to develop a research project as independently as possible. This research experience will develop skills in project management and development that will result in a complete product to share with the community at large in addition to an academic audience. The student will learn communication methods to engage with and involve stakeholders as part of the project development process. The student will also become familiar with the various air quality observation platforms and emissions datasets available, as well as health outcome metrics. The student will also develop quantitative and programming skills to analyze exposure and health data sets as part of the project. Collaborative research with investigators across disciplines will be facilitated so the student can contextualize the proposed project. If a particular on-going project is of interest to the student, this can serve as a starting point and the student will be encouraged to provide their own insight and approach to it in order for it to maximize impact and learning benefits.
Student Learning Outcomes & Benefits
At the completion of this research experience, the student will:
Understand pollutant emission modeling approaches
Be familiar with air quality observation methodology
Have hands-on experience with air quality sensors
Estimate exposure metrics at different temporal scales
Learn how to find and retrieve applicable health data to study
Utilize a statistical software package (R, Matlab, etc.) to perform data analysis
Convey enactable applications of their findings and results
Develop and manage a project to be presented at the end of the summer
Gain experience communicating with stakeholders outside of academia
INVESTIGATING AND QUANTIFYING NATURAL GAS LEAKAGE USING MOBILE MEASUREMENTS IN A MOUNTAINOUS URBAN ENVIRONMENT
Logan Mitchell, Associate Professor
HIGH RESOLUTION DYNAMICAL MODELING OF THE EFFECTS OF CLIMATE CHANGE ON MOUNTAIN SNOWPACK
Court Strong, Associate Professor
THUNDERSTORM INITIATION OVER COMPLEX TERRAIN: THE USE AND ABUSE OF RADAR AND SATELLITE OBSERVATION
Edward Zipser, Professor
THE INFLUENCE OF AEROSOLS ON FORMATION AND EVOLUTION OF TROPICAL CYCLONES WITH WRF NUMERICAL SIMULATIONS
A. Gannet Hallar, Associate Professor and Zhaoxia Pu, Professor