Bill Walton Tours the UATAQ Lab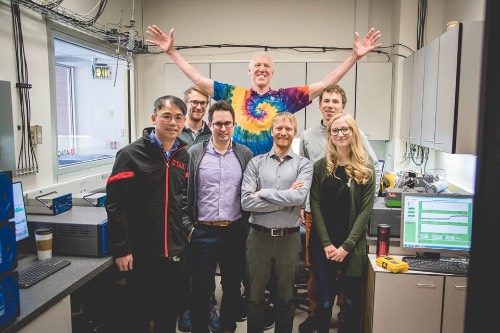 During the Runnin' Ute's win in basketball vs. UCLA on Thursday, February 22, Bill Walton, former basketball player and current commentator/game caller for ESPN, talked about his visit to the Department of Atmospheric Sciences and Professor John Lin. While there, he toured the U-ATAQ lab and learned about our measurements of greenhouse gases and air quality around Salt Lake Valley, as well as how this work helps inform environmental solutions and policy. The piece aired in one or two, one-minute segments during the game on the ESPN network.
As Bill Walton travels to different campuses to call the games, he creates segments called "Walton's World" and focuses on environmental and sustainability issues. He was here in January 2018 and covered our solar panel arrays in Research Park and the campus edible gardens. This time he talked about air quality and the campus "recyc-bike" program.
To rewatch the game between the Utes and the Bruins and Bill Walton's segments on his visit to the Department of Atmospheric Sciences, go to http://www.espn.com/watch/player?id=3273792. The "Walton's World" segment is at about minute 17:00 in the game video.